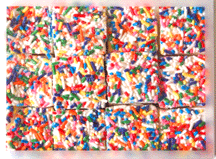 Birthday Cake Mallows
Indulge with these fluffy, happy, vanilla birthday cake mallows all decked out in nostalgic multi color sprinkles. Let's celebrate your special day or your BFF's BDay in mallow style. We won't ask how old you are!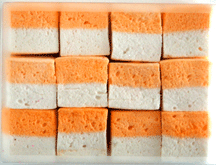 Creamsicle Mallows
Who needs a freezer? Not you if you're indulging in Mitch's sweet and creamy blend of orange and vanilla. Evoke a childhood memory without the drips! Mad Mallow Fun!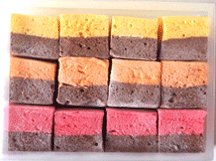 Chocolate Mega Mix Mallows
Are you a chocoholic like Mitch? If so this fabulous NEW sample pack has your name on it. [Actually it has Mitch's' name on it] Three terrific flavor combos, two intense layers. Valrhona dutch processed cocoa paired with Banana, PB & Chocolate and Chocolate + Strawberry. It's a vision of chocolate layered mallow goodness.
Vanilla Mega Mix Mallows
Is Vanilla your thing? Then this awesome NEW sample pack is just for you. 3 fantastic flavor combos. Each delicious layer is made from the finest of natural flavors. The Creamsicle [half vanilla & half orange] the Blusicle [half vanilla & half blueberry] and Cherry Vanilla [half vanilla & half cherry] Half and Half equals 100% mallow magic.
Churros Mallows
The aroma and flavor of the Churros sold on the corner, with a delightful cinnamon-sugar crunch on the outsides and that fried toasted flavor you love on the inside. The perfect treat for your Cinco De Mayo Party or an any day celebration!
Key Lime Pie Mallows
Who doesn't crave those sweet, tart grahamy creations that are key lime pies. Here at MitchMallows we unlocked the formula for the perfect Key Lime Mallow Pie. Let our mallows transport you to key west!
Root Beer Float Mallows
Root Beer Float Mallow..Oh yes we did…The most delicious flavor combination in culinary history, root beer and vanilla ice cream! Now here in mallow form. A triumph of confectionery genius
Chocolate Peanut Butter Mallows
A perfect harmony of confectionery flavors unite to create this cutting edge yet classic mallow. Dutch processed valrhona chocolate combined with buttery peanut equals candy nirvana. And you thought the cups were all that!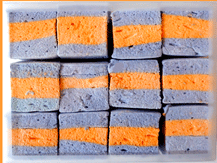 PB&J Mallows
The classic sammich, reinterpreted for the mallow generation. The average American eats over 2500 PB& J sandwiches before graduating high school. Mitch's PB & J Mallow is constructed with a nutty peanut butter mallow layer, sandwiched between 2 layers of sweet concord grape jelly mallow. The perfect comfort food snack for after lunch, after school, or after a long day at the office.
Blueberries and Crème Mallows
Mitch says a blueberry and crème mallow every morning puts me in the right mood for a perfect day. Rich blueberry flavor combined with creamy vanilla makes for a splendid indulgent treat. The bluebird of happiness would agree!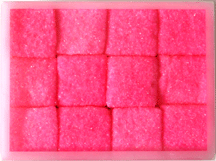 Pink Lemonade Mallows
Tart and Tangy…nothin' refreshes like an old fashion pink lemonade transformed into a 21st century treat as one of our stellar MitchMallows. We are all smiles on a summer night! AND IT"S PINK!
Mallowpollitans
Three of our classic flavors together for the first time in one cube! Delicious Strawberry, Vanilla & Chocolate layered together, perfectly in sync. It reminds us of the Neapolitan ice cream mom bought for us when we were kids. The Layered Look is in!
Cherry Vanilla Mallow
Fresh summer cherries lend their delightful taste to creamy vanilla. The perfect combination of pure, sweet velvety vanilla mallow and a flavorful layer of juicy cherries mallow…it's quite amazing.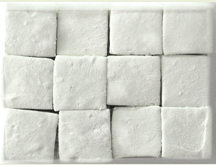 Vanilla Dream Mallows
Intense vanilla flavor in a fluffy cube of joy.
Add our handcrafted mallows to your shopping list. Your guests will thank you.
Mitch takes the classic marshmallow one step beyond, packing this fluffy treat with real vanilla punch. You'll never use the words "plain" and "vanilla" in tandem again. Perfect for s'mores and more! Dream ON!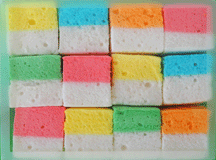 Frooty Mallow Mix
Stylish gourmet MitchMallows' in beautiful pastel hues will brighten up any occasion. Our famous layered mallows, twice the flavor, twice the fun. Assorted fruit flavors make this mallow treat the perfect gift for that sweet tooth in your life. Includes; Creamsicle, Lemon Meringue Pie, Blueberries & Crème, Key Lime Pie, Cherry Vanilla, and Grape Soda.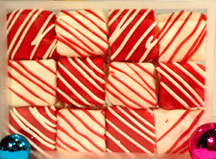 Holiday Candy Cane Mallows
Candy Canes reimagined as MitchMallows. These zingy, minty treats dipped and striped in white chocolate are the perfect Holiday Gift! Decadent floating in hot chocolate on a cold winters day or indulge in one just popped straight from the box.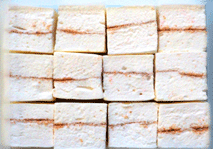 Holiday Egg Nog Mallows
The traditional holiday beverage now in mallow form. All the rich, creamy, noggy flavor you love with a surprise layer of cinnamon and nutmeg embedded in the middle. Let some of these mallows melt in your hot chocolate for an amazing winter wonderland treat! Mitch says "These mallows taste like Christmas"!
Holiday Peppermint Bark Mallows
Infused with the bright flavor of peppermint, enrobed in luscious dark chocolate and sprinkled with crunchy candy cane bits. Decadent floating in hot chocolate on a cold winters day or indulge in one just popped straight from the box. Give a box as a gift to those friends who really shine, serve them as dessert to make an ordinary dinner party truly festive, or enjoy them all yourself and keep their awesomeness your own little secret.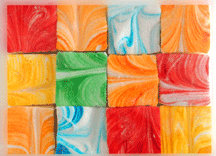 Rainbow Tie-Dyed Mallows
These brand new, rich vanilla treats swirling in all the colors of the rainbow are the perfect addition to you mallow celebrations. Fantastic for snacking. Perfect for gifting. And these groovy mallows turn any ordinary cup of hot chocolate into a work of modern art!